Click arrows to read more...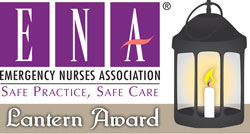 Children's Emergency Service
receives the Lantern Award!
Our Children's Emergency Service has been identified to receive a 2014 Lantern Award given by the Emergency Nurses Association representing exemplary care and leadership. The Lantern Award is a recognition award given to emergency departments that exemplify exceptional practice and innovative performance in the core areas of leadership, practice, education, advocacy and research. The award is a visible symbol of an emergency department's commitment to quality, presence of a healthy work environment and accomplishment in incorporating evidence-based practice and innovation into emergency care. Kelly Baird-Cox, Nurse Manager of the CES and the entire team has worked very hard over many months to be successful. The team will receive the award at the Emergency Nurses Association conference in October.
Happy 50th Anniversary to the Transplant Center!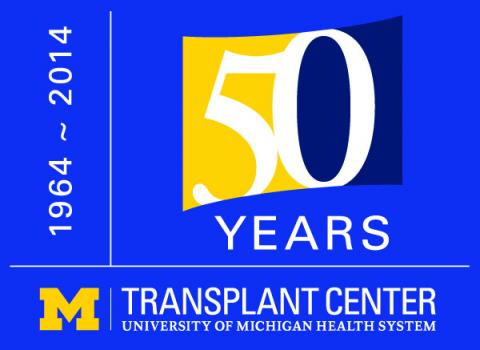 The 50th anniversary of the Transplant Center was celebrated on June 1, with an ice cream social and open house. The first transplant here at UM was a living kidney donation between two identical twins. Those twins, who both became nurses, joined to celebrate that groundbreaking operation that occurred in 1964. Congratulations to the people who've benefitted from the more than 10,000 transplants performed here, the donors that gave the gift of life, and the fantastic people of our Transplant Center team!
UMHHC Security Team Awarded

Congratulations to our UM Hospitals and Health Centers Security team in being awarded the 2014 Lindberg Bell Program of Distinction from the International Health Care Security and Safety Foundation. This is a wonderful sign of the ongoing commitment to safety and security of our environment, partnering with others in a community-oriented way. Kudos to the entire team
Ambulatory Care News...
Northville Health Center Opens July 15
The opening of Northville Health Center is quickly approaching. Many have reported seeing the billboards and hearing the radio ads that are now running. In addition, the Public Relations and Marketing Communications team have put together promotional videos that you will also start seeing on various media outlets. See the promotion here or at http://www.youtube.com/watch?v=g7a2ZNRHnJA
Lisa Kane Low presents: International Confederation of Midwives Conference

Lisa Kane Low, PhD, CNM, Program Coordinator of Nurse Midwifery Education, spoke recently at the International Confederation of Midwives conference in Prague, Czeck Republic. Nearly 4,000 midwives from more than 100 countries attended the conference. Lisa was the first plenary speaker of the conference, speaking on "Access: Bridging the Gap to Improving Care and Outcomes for Women and Families."
Anne Jackson awarded: Healthcare Professional Leadership Award for National Juvenile Arthritis

Anne Jackson, RN (Department of Pediatrics) received the 2014 Patty Rettig Award for Healthcare Professional Leadership, for National Juvenile Arthritis. The award is presented to a health care professional who has fostered a reputation for excellence in his or her field, developed an approach or strategy in research and service in pediatric rheumatology that is considered a model approach or system by his or her peers that can be replicated by other professionals and has had an impact on his or her local care system, and has been involved with patient care and been an advocate for children with rheumatic diseases. Given Anne's history and involvement with the AF, development of the Parent to Parent network, our ability to replicate that program (which we are now working to rollout throughout the entire Great Lakes Region), the guidance she gives families, the years she has dedicated to Camp Dakota, the campers and their families and Anne's leadership, participation and recruitment for the Arthritis Walk, Kara Dorda, Program Director of the Arthritis Foundation felt Anne would be more than deserving of this award and the panel of judges at their national office agreed!
Candia Laughlin recorded: AACN Textbook

Candia Laughlin, MS, RN, Director of Nursing (Ambulatory Care Services) recorded the following presentation related to a chapter she co-authored in a new AAACN Textbook, Care Coordination and Transition Management Core Curriculum (Haas, Swan and Haynes, 2014). The chapter is titled "Support of Self-Management." There are continuing education credits available to those who read the chapter and complete the module. The presentation can be viewed at:
http://www.prolibraries.com/aaacn/?select=session&sessionID=451
Mary Gagnon, Sharon Dickinson, Pauline Park, and Lena Napolitano published: Critical Care Connections

Mary Gagnon, RN (SICU), Sharon Dickinson, MS, RN, CNS (SICU) and Pauline Park, MD and Lena Napolitano, MD, recently published in Critical Care Connections on "Transforming Care: Developing a Patient- and Family-Centered ICU".
2014 Schwartz Rounds Conferences
Mark your calendars for our remaining 2014 schedule.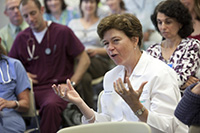 Jul 14: Ford Auditorium
Aug 11: Ford Auditorium
Sep 8: MCHC
Oct 6: Ford Auditorium
Nov 17: Ford Auditorium (UMHS Grief week)
Dec 8: MCHC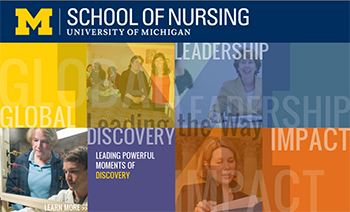 See What's New at the U-M School of Nursing
The latest information is now available on the web at: http://www.nursing.umich.edu/about-our-school/news-portal
A Day in the Life: Nursing at Michigan...
Video Premiered May 6th
In celebration of the incredible nursing care provided to the thousands of patients and families we serve, on May 6th in Ford auditorium we kicked off National Nurses Week by showing the premiere of a documentary-style video showcasing a "day in the life" of our nurses! Popcorn was served and the video was shown in 15 minute intervals. The video was also featured on the UMHS blog. Watch the preview trailer at this link. View the full video here:
News Archives | News Archives February 2014 and prior
Target Audience: All | Contact: Kathy Dunnuck, BFA, BSN, RN | Date of last review: 7/2/14
Quick Links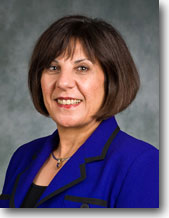 Margaret Calarco, PhD, RN
Chief of Nursing Services
Welcome to
Nursing at Michigan
Nursing at Michigan represents an extraordinary professional nursing community of over 4500 nurses in a multitude of practice and advanced practice roles. Together with our patient and family partners and inter-professional colleagues we have co-created a strong and vibrant professional practice model which supports our promise to society... "To create a shared vision and powerful voice which advances the art and science of Nursing and revolutionizes leadership, education and research, and transforms patient care."
Ever focusing on our "true
north" "to provide the finest
care to those who choose
to place their lives in our
hands," nurses at Michigan
strive to provide exquisite,
evidence-based care in a
compassionate and innovative
practice environment.
We are tremendously proud
of the care we provide to
the thousands of patients
and families we serve in the
State, across the country
and around the world.
We invite you to join our community in celebrating exceptional nursing care.