Click arrows to read more...

Sigma Theta Tau, Rho Chapter Awards
Application Deadline:
February 20, 2016
Each year Rho Chapter of Sigma Theta Tau International recognizes outstanding nurses in the areas of Nursing Education, Nursing Practice, Leadership, Research, and more. Nominees must be a member of Rho Chapter and meet the criteria for the category. Please take a brief moment to go to our website and look at the awards and the criteria for each award. We are also attaching Awards Information and a nomination form:
http://nursing.umich.edu/info/current-students/clubs-organizations/sigma-theta-tau/awards
In addition to the form, a current curriculum vita/resume and (2) letters of support need to be submitted. If you are not sure a colleague is an active member of Rho Chapter, send us an e-mail and we will verify membership.
The deadline for applications is February 20, 2016.
Nominations can be sent by mail to:
Sigma Theta Tau, Rho Chapter, 400 N. Ingalls, Ann Arbor, MI 48109
Or by e-mail to Mary Sue Webb: mswebb@med.umich.edu
Awards will be presented:
Annual Induction and Awards Program
Sunday, April 3, 2016
2:00 – 4:00PM
Michigan Union
UMSN Celebrates 125 Years of Global Impact
Join U-M faculty and alumni, top nursing scientists, and global health leaders for a major international symposium on April 5-7, 2016, and help us celebrate our 125th anniversary and 10 years of Dean Kathleen Potempa.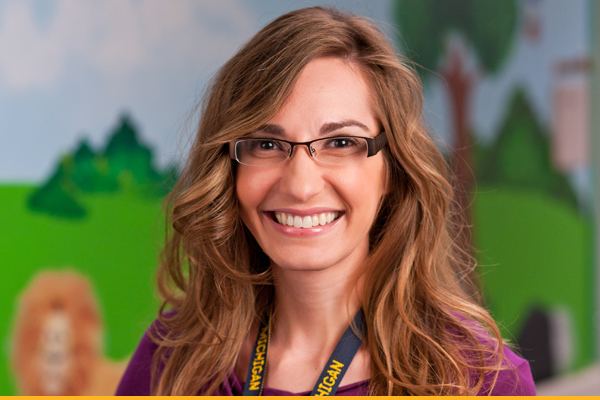 What's New in Nurse Recruitment and Retention...
Now Hiring UMHS RNs in CSR
Help spread the word - earn a $2000* bonus for referring external RNs to CSR
Nursing at Michigan Spring Career Fair



Did you know that Central Staffing Resources is hiring in all clusters; AGC, ATC, ACC, PAC and PCC?
Did you know that permanent CSR nurses earn a $500 quarterly bonus? (prorated to your appointment fraction)
Did you know that we currently have positions available for Day, Evening and Night shifts?
Are you interested now? Click here to view current Central Staffing Resources opportunities.

For more information, contact UMHS NRR by:
Visiting us on the web: www.UMnursing.org
Phone: 877-NURSE-UMHS or 734-936-5183
e-mail: nurserecruit_umhs@med.umich.edu
HELP SPREAD THE WORD! EARN A $2000* BONUS FOR REFERING EXTERNAL RNs TO CSR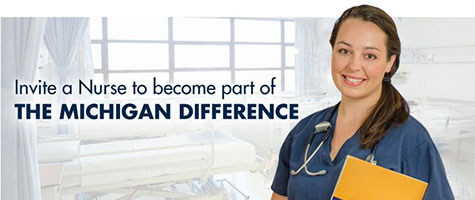 The University of Michigan Health System invites and encourages all eligible employees to participate in our Nurse Recruitment & Retention
Employee Referral Program.
*On select CSR positions; some restrictions apply. Please visit www.UMnursing.org for a complete list of referral eligible positions, rules and guidelines.

Nursing at Michigan Spring Career Fair
March 20, 2016 Noon - 3pm
Towsley Center
Registration for all attendees is mandatory and space is limited. We welcome you to register and also to invite your friends to register as well.
Registration for the Spring Career Fair will begin February 29, 2016 at www.UMnursing.org
Michelle Churches and Shelly Robbins selected: Facebook Editors for ASORN
Michelle Churches, RN and Shelly Robbins, RN (Kellogg Eye Center PACU) have been chosen to be the new Facebook Editors for the American Society of Ophthalmic Nurses Facebook page. The ASORN Board asked if they would be interested when they attended a conference in November. Their goal was to increase ASORN exposure. They have increased the following from less than 40 people to 5,000 people following! The posts are also being shared internationally.
HomeMed Nursing Staff collaborates on BCBS funded project: Patient Education Manual
HomeMed nursing staff (Dana Iocoangeli, Sue Koski, Deb Kovacevich and Jeff Wood) worked with Vineet Chopra, MD and Elizabeth McLaughlin, RN to refine their patient education manual on PICC care and Maintenance for the Blue Cross Blue Shield funded collaborative entitled Hospital Medical Safety. This manual will be adapted by 47 hospitals that are members of the collaborative.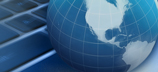 Nursing at Michigan Influencing the World!
UMHS Nurses: Remember to Enter Your
Professional Contributions
Have you recently completed a manuscript, book chapter, or presentation? Have you received a grant or award? If so, we'd like to hear about it! Please take a few minutes to tell us about your achievement by completing the survey linked below. Nursing Contribution Submissions:
https://umichumhs.qualtrics.com/SE/?SID=SV_25IgL1skzSQGUFC
This information will be used to recognize contributions made by UMHS nurses. It will be posted on the external
UMHS Nursing Cited Work website
(updated quarterly) and will also be included in Marge's Monthly Nursing Updates, Nursing Services' annual reports, Nurse's Week activities, and shared at other appropriate venues. Thank you for your contributions!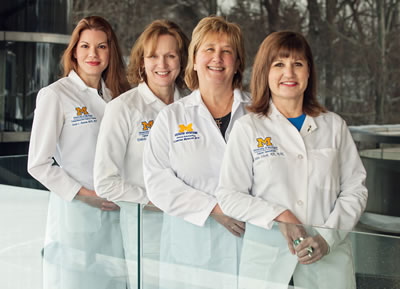 Cancer AnswerLine™

Educating the Community
Cancer AnswerLine Nurses presented: Michigan Cancer Consortium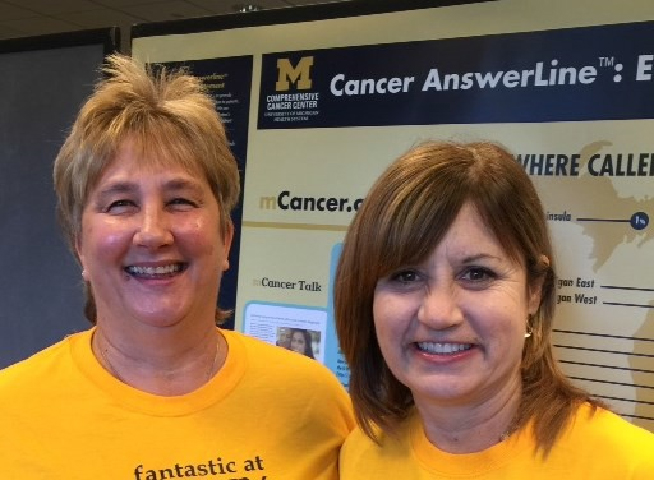 Vanessa Rowan, RN and Annette Schork, RN, BSN, OCN, CBCN attended the 2015 Annual Meeting for the Michigan Cancer Consortium on November 4th, 2015 in Lansing Michigan. The Cancer AnswerLine™ Team (Kim Zapor, RN, BSN, OCN, CBCN and Susan Daron RN, BSN, OCN) provided a poster presentation: Cancer AnswerLine™: Educating the Community.
Mary Berry-Bovia Elected as President-elect: Michigan Emergency Nurses Association (MENA)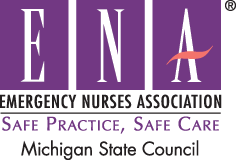 Mary Berry-Bovia (AES) was elected as the President-Elect for the Michigan Emergency Nurses Association (MENA) State Council. Mary has 31 years of emergency nursing experience and has been the educational nurse coordinator for 29 years.
Mary Gagnon published: Chicken Soup for the Soul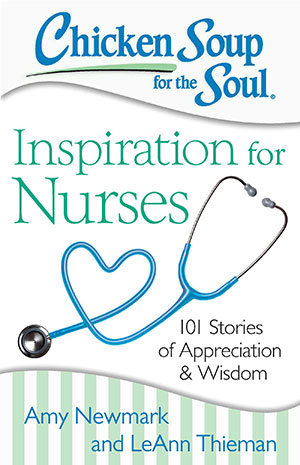 Mary Gagnon, RN (SICU) had a story published in the most recent Chicken Soup for the Soul, Inspiration for Nurses book. Mary's story, original entitled "The Cordless Phone" was written for her Level E portfolio a number of years ago. It was retitled "Privileged Presence". It is such a standout! You can see the book here.
Rho Chapter of Sigma Theta Tau awarded: Chapter Key Award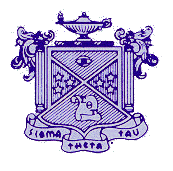 Our University of Michigan Rho Chapter of Sigma Theta Tau also received our first Chapter Key Award. Rho Chapter Treasurer, Christina Wojack, BSN, RN (CV-ICU) accepted the award from Sigma Theta Tau's President Hester Klopper.
UMHS Leaders Present: Sigma Theta Tau International Convention:

The Sigma Theta Tau International 43rd Biennial Convention was held November 7-12, in Las Vegas, Nevada. Congratulations to our UM Faculty and UMHS Leaders for presenting at the convention. Dana Tschannen, PhD, RN, Leah Shever, PhD, RN presented Exemplar Unit Initiative Framework: Engaging Faculty and Staff to Improve Patient and Student Outcomes; Mary Lynn Parker, MS, RN and Jole' Mowry, MS, BSN, ADN, RN presented Impact of a Student and Faculty Collaboration on Patient Satisfaction with Pain Management; and Ann K. Gosselin, DNP, RN, Inga Vitins, BSN, RN, Julie Grunawalt, MS, RN, GCNS-BC, Winnie Wood, MSN, RN, CNS and Sandra Kendziora, BSN, RN presented Student Assessment and Fall Evaluation (S.A.F.E. Team): A Collaborative Initiative in an Academic-Service Partnership to Improve Patient Safety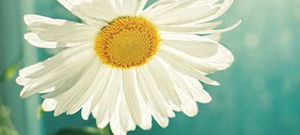 The DAISY Award
for Extraordinary Nursing...
Congratulations to Megan Klei, RN (SICU) who received the award in December!


The DAISY Award is given through a nationally known program currently in place in over 450 hospitals. DAISY is an acronym for Diseases Attacking the Immune System and this award was established by a family whose son succumbed to a disease of the immune system. During his prolonged hospital stay, he and his family greatly benefited from care provided by superb RNs. This award was established to honor nurses who exemplify that compassionate, thorough care. Within the University of Michigan Health System, candidates for the Daisy Award are nominated by patients and/or their families.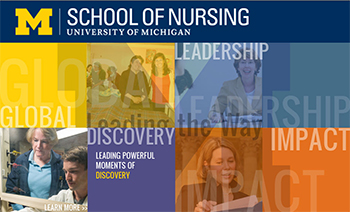 See What's New at the U-M School of Nursing
The latest information is now available on the web at: http://www.nursing.umich.edu/about-our-school/news-portal
News Archives | News Archives February 2014 and prior
Target Audience: All | Contact: Kathy Dunnuck, BFA, BSN, RN | Date of last review: 2/2/16
Quick Links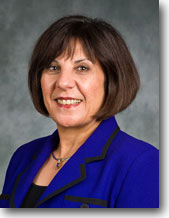 Margaret Calarco, PhD, RN
Chief of Nursing Services
Welcome to
Nursing at Michigan
Nursing at Michigan represents an extraordinary professional nursing community of over 4500 nurses in a multitude of practice and advanced practice roles. Together with our patient and family partners and inter-professional colleagues we have co-created a strong and vibrant professional practice model which supports our promise to society... "To create a shared vision and powerful voice which advances the art and science of Nursing and revolutionizes leadership, education and research, and transforms patient care."
Ever focusing on our "true
north" "to provide the finest
care to those who choose
to place their lives in our
hands," nurses at Michigan
strive to provide exquisite,
evidence-based care in a
compassionate and innovative
practice environment.
We are tremendously proud
of the care we provide to
the thousands of patients
and families we serve in the
State, across the country
and around the world.
We invite you to join our community in celebrating exceptional nursing care.