Nursing at Michigan in the News
Click arrows to read more...
Check your Nursing License! Is it expiring in 2018?
March 31 is the expiration date for many RN/LPN licenses that renew in 2018.
You can renew your license quickly and easily at the State of Michigan website www.Michigan.gov/miplus
As you know, it is your professional responsibility to maintain a current license. Don't delay, renew today!
Call for Poster Abstracts: Facets of Pediatric Nursing Care Conference
Deadline: April 15, 2018
An opportunity to share research, clinical innovation and evidence-based practice at our conference.
Eligible Topics for Presentation:
Evidence-Based Practice
Clinical Innovation
Leadership
Process Improvement
Clinical issues and scenarios
To submit an abstracts click here: 2018 Facets of Pediatric Nursing Care Call for Poster Abstracts
Deadline for Submission: April 15, 2018
Survival Flight -- 34th Annual Emergency & Critical Care Conference
March 15th & 16th, 2018
Click here to register for the conference. This program will provide the latest evidence based strategies and treatment modalities for pediatric and adult patients who have traumatic injuries or complex medical diagnoses and disease process. Sessions will include case studies on medical diagnoses and trauma care, human trafficking and opioid crisis in pain management. Participants will review the latest treatment modalities for several patient populations with traumatic or complex medical diagnoses.
What's New in Nurse Recruitment and Retention...
Spring Career Fair 2018
Help Spread
the Word!

Nursing Career Fair -
Spring 2018

Space is Limited. Registration is now open at www.UMnursing.org

Who Should Attend:
Seeking Experienced RNs, GNs graduating by August 2018, Advanced Practice Nurses
Location:
The Kensington Hotel 3500 South State Street
Ann Arbor, Michigan 48108
Date:
March 18, 2018
Time:
12:00 pm - 3:30 pm
Evidence-Based Practice Writing Workshop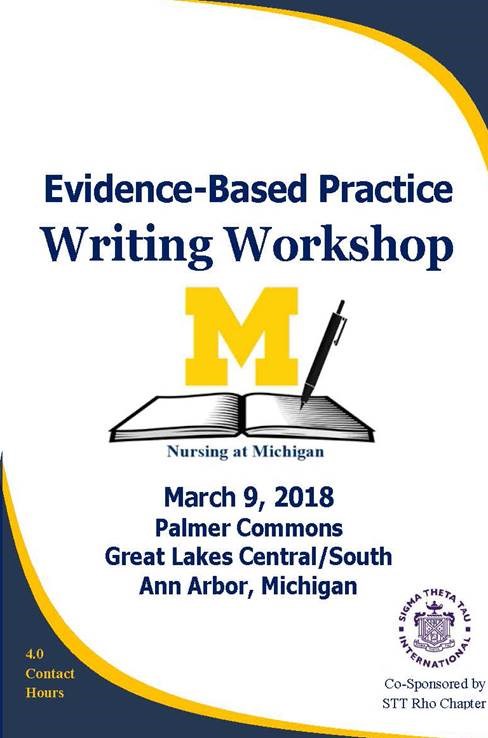 Learning Outcomes:
The participant of the workshop will be able to:
Identify the process for project dissemination through publication
Describe the most effective pathway to successful dissemination
Draft a preliminary outline of a project publication with mentor support
Target Audience:
Members of the nursing community who are interested in disseminating their project through writing/publication.
For More Information and to Register go to: https://www.regonline.com/EBPWW2018

This program is provided and endorsed by Research and Translation Committee under Nursing Governance at University of Michigan Health System.
University of MI Professional Development & Education is an approved provider of continuing nursing education by the Ohio Nurses Association, an accredited approver by the American Nurses Credentialing Center's commission on accreditation. (OBN-001-91) (OH-423, 03/01/2019)
Laura Feuerbacher and Michelle Fernamberg had their abstract selected for a poster presentation at the 43rd Annual AAACN Conference, May 9-12, 2018. The abstract describes the redesign of the model of care at the Briarwood Center for Reproductive Medicine. The title of the abstract is "It Takes a Village to Raise a Baby... It Takes a Team to Make One."
Congratulations to the Pediatric Ventilator Team (Ann Marie Ramsey-NP, Sarah Brennan-RN, Adam Stricker-RN, Kurt Riek-RRT, Dana Brown-RRT, Rachel Gurtowsky-NP, Julie Sturza- Statistician, and Amy Filbrun, MD) for getting "Emergency airway and ventilator procedures for community based home care staff validation of an education program" published! Pediatr Pulmonol. 2018 Jan 4. doi: 10.1002/ppul.23936. [Epub ahead of print].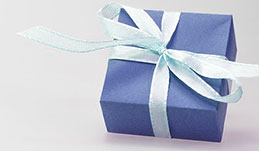 Philanthropy for Nursing
Beginning more than a year ago, plans to actively involve the Department of Nursing as a benefactor of philanthropic gifts were put in place. A Philanthropy for Nursing Advisory Council was established, nurse leadership training occurred this fall, and the Nursing Department participated in the University-wide Giving Blue Day. Momentum continues to build with plans to involve another 100 nurses in a professional training course to inform and clarify the nurse's role in philanthropy. Take a look at successes to date:
Giving Blue Day (GBD) brought in $5,605 to the general Nursing at Michigan fund... in 24 hours! The fund continues to grow and now holds $7,132 when gifts made outside the GBD 24-hour window are included.
The Dr. Margaret Calarco Fund for Nurse Professional Development holds $5000 and remains open as an opportunity to continue to acknowledge nursing.
An $100,000 endowed Lectureship has been given by Michigan Medicine in Dr. Margaret Calarco's name upon her retirement in December 2017. Proceeds from this resource support leadership training for all U of M nurses. Funded lectures are intended to be of interest to nurses employed by the University of Michigan Hospital System as well as nurses from the School of Nursing.
A $1000 Gift to Pediatric Nursing supported a nurse who did a podium presentation at the Society of Pediatric Nurses Conference in Denver. She shared findings from her evidence based project demonstrating that premature infants who are fed on feeding readiness cues, rather than provider initiated scheduled feedings, reach their feeding goals at a faster rate and with less complications.
Distributed yearly, two gifts of $100,000 made to CVC support teams with innovative ideas. This year both winning teams included nurses!
Dan Silverman, a grateful patient of the Frankel Cardiovascular Center (FCVC), recently made a gift of endowment to establish the Daniel J Silverman Family & Friends Endowment for Cardiac Care Nursing Education and Research. This fund will be used to support education to improve the care and safety of heart transplant patients in the FCVC. The Fund will provide awards to heart transplant staff who are not faculty and who provide direct patient care, including registered nurses, licensed practical nurses, nurse practitioners, and clinical care coordinators. The FCVC directors will make annual awards to staff members who demonstrate improved patient care and safety for heart transplant patients. In next month's newsletter, learn about the motivation behind Dan's wonderful gift to support heart transplant nursing!
A Grateful Patient mailing is scheduled for January with directed gifts going to one of two funds -- happy to announce that one of the two is the Nursing at Michigan Fund!
These efforts support nurses and the ever centric goal of providing the best of care to patients and families who seek our help. Thank you to those of you who have contributed through personal gifts, providing exemplary patient care or by referring donors to development officers - all are elements of a successful plan to enhance resources for nursing.
Margy Fox, Clinical Nurse Specialist for the PMR ambulatory care clinics has been appointed to the Clinical Adjunct Faculty Network (CAFN). The School of Nursing Executive Committee has approved her appointment as an Adjunct Clinical Instructor for a two-year term.
Dr. Anne McLeod, RN, DNP and the NNPN workgroup (National Nursing Practice Network Transition to Evidence Based Practice) had a poster accepted into the 25th National Evidence-Based Practice Conference in Iowa. The title of the poster is "EYE ON THE EVIDENCE (EOE). Seeing is Believing! How One Resource can Change Organizational Behavior."

Oncology National Nursing Society National Meeting (ONS Congress) will be held in Washington DC, May 16-20th 2018. Congratulations to Maggie Perrone, RN, MA who will be presenting the abstract and poster on the topic of Compassion Fatigue: The Impact on Nursing Practice.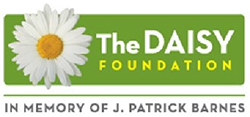 The Daisy Award
Linda Walla and Tiffany Hunter (PCTU)
Congratulations to Liana Walla, RN and Tiffany Hunter, RN (PCTU) for receiving Daisy awards! The DAISY Award is given through a nationally known program currently in place in over 2,700 healthcare facilities in 50 states and 15 countries. DAISY is an acronym for Diseases Attacking the Immune System and this award was established by a family whose son succumbed to a disease of the immune system. During his prolonged hospital stay, he and his family greatly benefited from care provided by superb RNs. This award was established to honor nurses who exemplify that compassionate, thorough care. Within the University of Michigan Health System, candidates for the Daisy Award are nominated by patients and/or their families. This is a wonderful honor.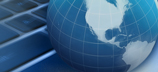 Nursing at Michigan Influencing the World!
Michigan Medicine Nurses: Remember to Enter Your
Professional Contributions
Have you recently completed a manuscript, book chapter, or presentation? Have you received a grant or award? If so, we'd like to hear about it! Please take a few minutes to tell us about your achievement by completing the survey linked below. Nursing Contribution Submissions:
https://umichumhs.qualtrics.com/SE/?SID=SV_25IgL1skzSQGUFC
This information will be used to recognize contributions made by UMHS nurses. It will be posted on the external
Nursing Cited Work website
(updated quarterly) and will also be included in Marge's Monthly Nursing Updates, Nursing Services' annual reports, Nurse's Week activities, and shared at other appropriate venues. Thank you for your contributions!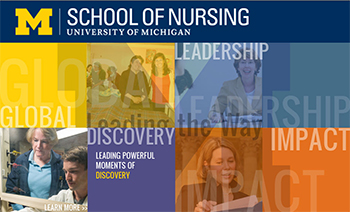 See What's New at the U-M School of Nursing
The latest information is now available on the web at: http://www.nursing.umich.edu/about-our-school/news-portal
News Archives | News Archives February 2014 and prior
Target Audience: All | Contact: Kathy Dunnuck, BFA, BSN, RN | Last updated: 3/2/18
Quick Links
Jesus Cepero, PhD, RN, NEA-BC
Interim Chief Nurse Executive
Welcome to
Nursing at Michigan
Nursing at Michigan represents an extraordinary professional nursing community of over 6000 nurses in a multitude of practice and advanced practice roles. Together with our patient and family partners and inter-professional colleagues we have co-created a strong and vibrant professional practice model which supports our promise to society... "To create a shared vision and powerful voice which advances the art and science of Nursing and revolutionizes leadership, education and research, and transforms patient care."
Ever focusing on our "true
north" "to provide the finest
care to those who choose
to place their lives in our
hands," nurses at Michigan
strive to provide exquisite,
evidence-based care in a
compassionate and innovative
practice environment.
We are tremendously proud
of the care we provide to
the thousands of patients
and families we serve in the
State, across the country
and around the world.
We invite you to join our community in celebrating exceptional nursing care.