Click arrows to read more...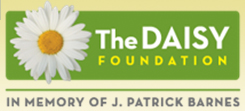 Daisy Foundation Grants are now available!
Letters of Intent Deadline: September 12, 2014
The guidelines and applications for the Fall, 2014 J. Patrick Barnes Grants for nurses doing research and evidence-based practice projects are on-line. The deadlines for letters of intent is September 12th. The foundation's goal is to support both experienced researchers and nurses who Complete information about the grant program is on their website at http://daisyfoundation.org/research-EBP-grants/copy_of_goals-and-guidelines. They look forward to hearing from our nurses who are interested applying. They have an esteemed panel of nurse researchers who guide this program and are eager to receive applications.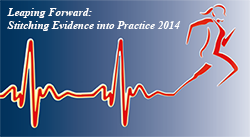 Call for Abstracts: Due September 30, 2014
4th Annual Conference
Leaping Forward in Critical Care: Stitching Evidence into Practice
Call for Abstracts:
The fourth annual Conference: Leaping Forward in Critical Care: Stitching Evidence into Practice Presented by the Surgical Intensive Care Unit and Sigma Theta Tau at the University of Michigan
Conference Date: February 17, 2015
Deadline: September 30, 2014
Abstract submission link:
SICU CONFERENCE: ABSTRACT-SUBMISSION-DUE-SEPT-30-2014
An opportunity to share research, clinical innovation and evidence-based practice at our fourth annual critical care symposium.
Eligible Topics for Presentation:
Evidence-Based Practice
Clinical Innovation
Leadership
Process Improvement

Clinical issues and scenarios
*Please note that previously presented research should be submitted for poster presentation only*
Questions? Email Sharon Dickinson (sdickins@umich.edu) or Connie Rickelmann (crickelm@umich.edu)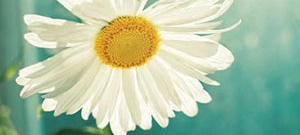 The DAISY Award for Extraordinary Nursing...
Congratulations to Tracy Jennings, RN and Erika Koerner, RN (CVICU) who recently received the award!



The DAISY Award is given through a nationally known program currently in place in over 450 hospitals. DAISY is an acronym for Diseases Attacking the Immune System and this award was established by a family whose son succumbed to a disease of the immune system. During his prolonged hospital stay, he and his family greatly benefited from care provided by superb RNs. This award was established to honor nurses who exemplify that compassionate, thorough care. Within the University of Michigan Health System, candidates for the Daisy Award are nominated by patients and/or their families.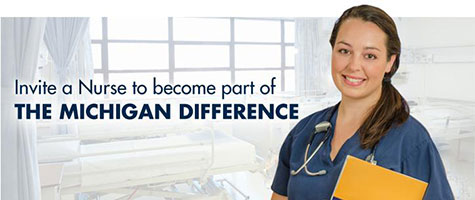 What's New in Nurse Recruitment and Retention...
NEW Employee Referral Program -
Earn a Cash Bonus of up to $3000
NEW Nurse Recruitment & Retention Employee Referral Program
The new Nurse Recruitment & Retention Employee Referral Program (ERP) was launched in August. The ERP is designed to encourage UMHS employees to introduce exemplarily, external nurses to opportunities to grow a nursing career at UMHS. The program rewards any eligible UMHS employee for recommending stellar candidates for an award-eligible position should that candidate accept the position and remain in it for a prescribed time.
ERP bonuses will vary with each award eligible position and can be as much as $3,000!
We are currently recruiting for selected Nurse Manager positions with a $3000 referral bonus, visit www.UMnursing.org to see all available ERP referral opportunities.
Earn a Cash Bonus of up to $3,000!
Refer a talented non-UMHS employee to a Nursing position listed on the ERP website
If your referral leads to hire - you earn the bonus!
Rules & Guidelines apply.
Go to www.UMnursing.org for full program details.
John Whelan published: book review, Gastroenterology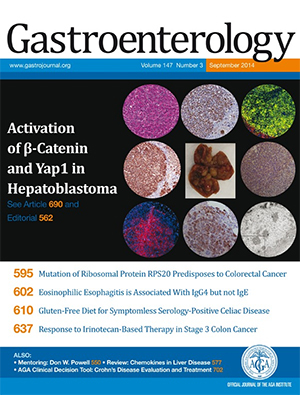 John Whelan, Nurse Manager in the Medical Procedure Unit, recently published a book review in the journal Gastroenterology, Volume 147, August, 2014. The book he reviewed was Johns Hopkins Manual for GI Endoscopic Nurses. Third Edition. Mouen Khashab, Toshunia Robinson, and Anthony Kalloo, editors.
Rhonda Schoville, Leah Shever, Marge Calarco and Dana Tschannen published: Nursing Economics

Rhonda Schoville, MS, RN Leah Shever, PhD, RN, Margaret Calarco, PhD, RN and Dana Tschannen, PhD, RN were published in Nursing Economics, (September/October, 2014). A Cost Benefit Analysis: Electronic Clinical Procedural Resource Supporting Evidence Based Practice (EBP).
Juanita Parry, Marge Calarco and Barbara Hensinger published: Nursing Management

Juanita Parry, MS, RN, Margaret Calarco, PhD, RN & Barbara Hensinger BSN, RN recently published an article entitled "Unit-based interventions: distressing the distressed" in Nursing Management, August 2014.
Debra Kovacevich published: Nutrition in Clinical Practice
Debra Kovacevich, RN, MPH, Director of Home Care Nursing, has co-authored an update of the Standards for Nutritional Support: Home Care and Alternate Site Care, published online June 25, 2014 in Nutr Clin Prac. The American Society for Parenteral and Enteral Nutrition (A.S.P.E.N.) is a professional society of physicians, nurses, dietitians, pharmacists, nurse practitioners, physician assistants, other allied health professionals, and researchers. These combined standards are an update of the 2005 and 2006 standards.
Dr. Stephen Strobbe published: Primary Care: Clinics in Office Practice
Dr. Stephen Strobbe, Clinical Associate Professor, recently published an invited article in a special journal issue on prevention and screening in primary care. Strobbe, S. (2014). [Special issue: Screening and prevention in primary care]. Prevention and screening, brief intervention, and referral to treatment for substance use in primary care. Primary Care: Clinics in Office Practice, 41(2), 185-213.
2014 Schwartz Rounds Conferences
Mark your calendars for our remaining 2014 schedule.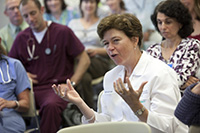 Sep 8: MCHC
Oct 6: Ford Auditorium
Nov 17: Ford Auditorium (UMHS Grief week)
Dec 8: MCHC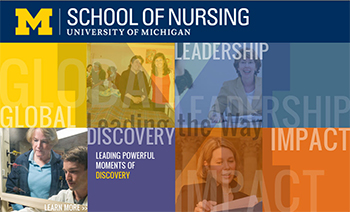 See What's New at the U-M School of Nursing
The latest information is now available on the web at: http://www.nursing.umich.edu/about-our-school/news-portal
News Archives | News Archives February 2014 and prior
Target Audience: All | Contact: Kathy Dunnuck, BFA, BSN, RN | Date of last review: 9/3/14
Quick Links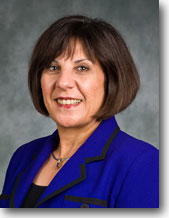 Margaret Calarco, PhD, RN
Chief of Nursing Services
Welcome to
Nursing at Michigan
Nursing at Michigan represents an extraordinary professional nursing community of over 4500 nurses in a multitude of practice and advanced practice roles. Together with our patient and family partners and inter-professional colleagues we have co-created a strong and vibrant professional practice model which supports our promise to society... "To create a shared vision and powerful voice which advances the art and science of Nursing and revolutionizes leadership, education and research, and transforms patient care."
Ever focusing on our "true
north" "to provide the finest
care to those who choose
to place their lives in our
hands," nurses at Michigan
strive to provide exquisite,
evidence-based care in a
compassionate and innovative
practice environment.
We are tremendously proud
of the care we provide to
the thousands of patients
and families we serve in the
State, across the country
and around the world.
We invite you to join our community in celebrating exceptional nursing care.